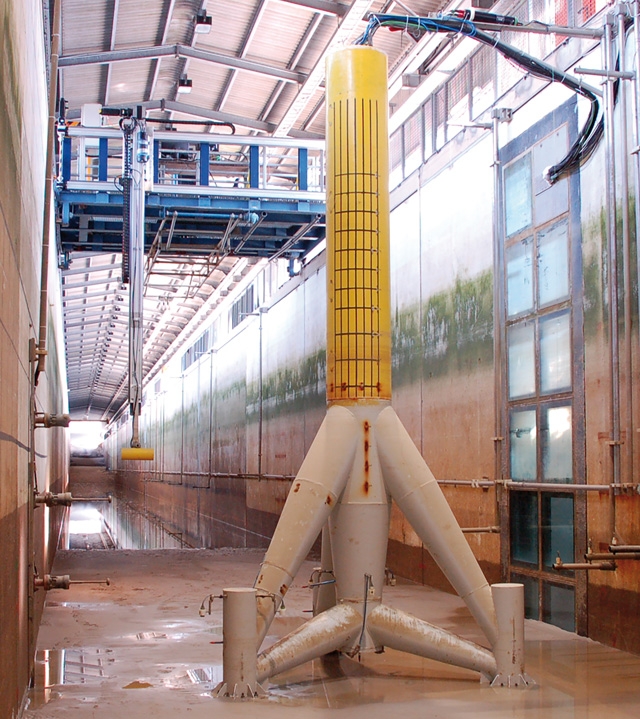 With a length of 300 m, width of 5 m, depth of 7 m and wave heights of up to 2 m the large wave flume, operated by Forschungszentrum Küste (FZK), is one of the biggest and most important testing facilities of this kind worldwide. Reproduction of natural waves and sea states on a large scale, up to full-scale, as well as state-of-the art measurement techniques, like multibeam echo-sounder, laser scanners and video analysis, provide experimental results which guarantee new insights into highly complex processes. The focal points of the large wave flume are:
Coastal structures (dikes, revetments, breakwaters)
Sediment transport (coastal erosion, dunes, beach nourishments)
Ecohydraulics (interaction between plants and animals with waves and currents)
Marine energy (offshore wind, wave and tidal energy).
TECHNICAL DATA
307 m long, 7 m deep and 5 m wide
Water waves up to a height of: 2 m
Installed power: about 900 kW
Maximum stroke: ±2.10 m to the wave paddle
Superimposed by upper flap movements of: ±10 degrees
CONTACT
Dr.-Ing. Stefan Schimmels
Forschungszentrum Küste, ForWind – Leibniz Universität Hannover,
This email address is being protected from spambots. You need JavaScript enabled to view it.