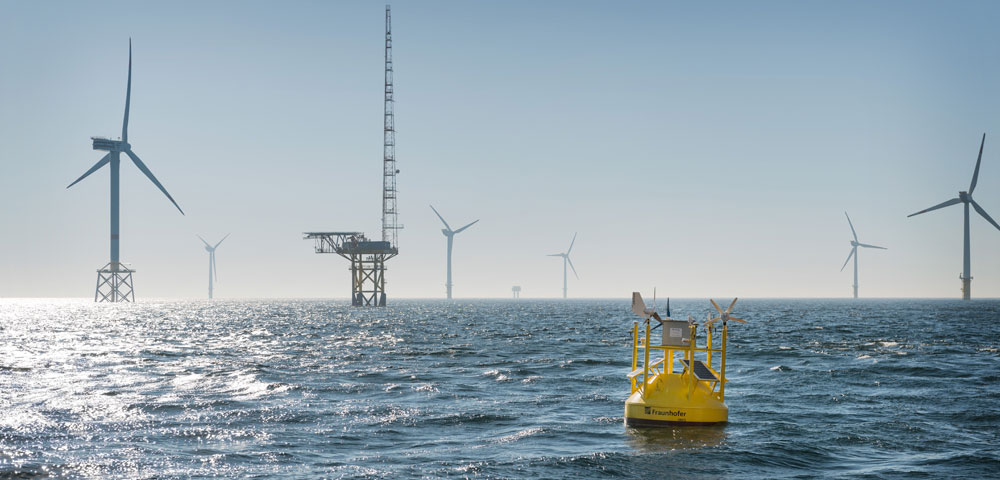 Measurement campaigns for an offshore wind resource assessment with the in-house developed Fraunhofer IWES Wind Lidar buoy include the complete yield assessment for the development of an offshore wind project. The floating system integrates a Wind-cube® v2 Lidar device in an adapted marine buoy. Its compact design, an autonomous power system and an efficient data processing and communication system ensure reliable and flexible offshore wind measurement campaigns at minimal costs. The motion correction algorithm guarantees high data accuracy and measurement uncertainties similar to those for offshore mast measurements. in all project phases including planning, installation and operation of offshore wind power plants.
Fraunhofer developed a correction algorithm that allows LiDAR systems to carry out measurements even on moving structures. The algorithm subtracts the buoy's own movement from the measurement values.
Wind velocity measurements up to 200 m
Additional measurements available: waves, currents, temperature etc.
Full service contract including permission, deployment, service, data transfer, quality control
Wind resource assessment based on these data
Measurement campaigns from one week to one year possible.
TECHNICAL DATA
Dimensions: overall height 7.2 m, diameter 2.55 m
Weight: 4.7 t
Operational water depth: min. 15 m
Measurement height range: 40 m – approx. 250 m
Autonomous renewable energy-based power system
CONTACT
Dipl.-Met. Claudia Rudolph
Fraunhofer IWES
This email address is being protected from spambots. You need JavaScript enabled to view it.